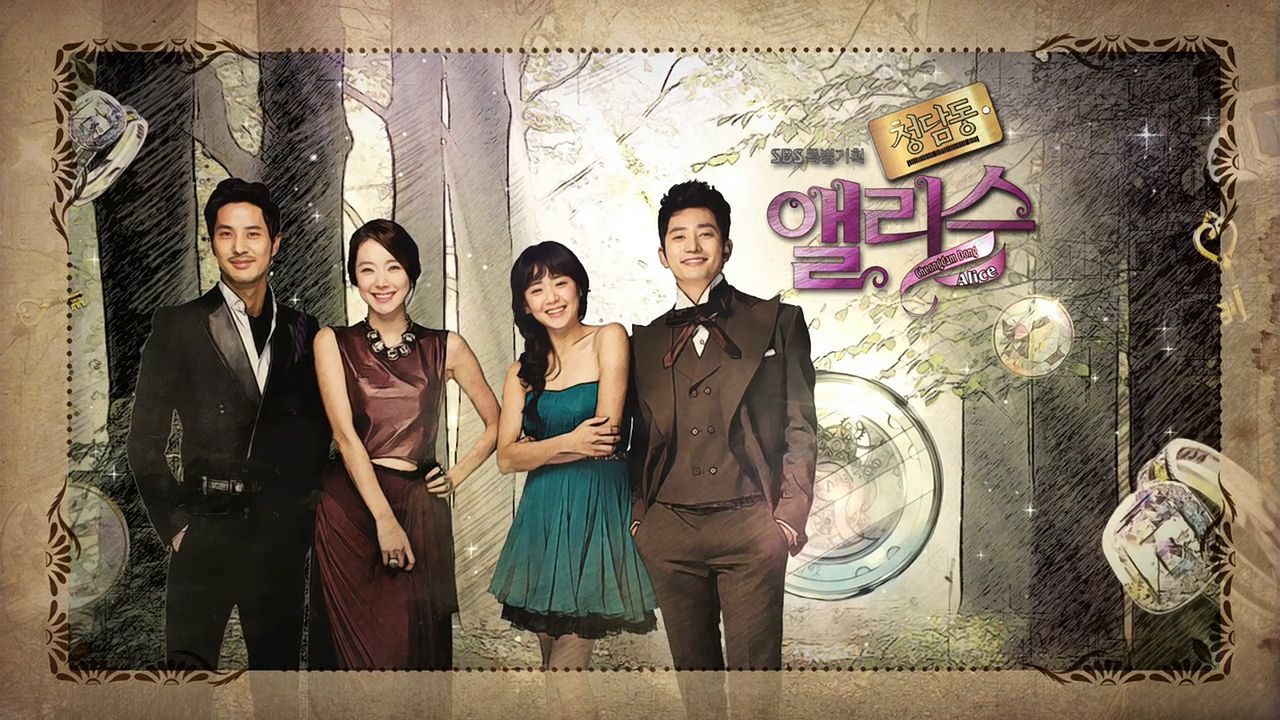 Cheongdamdong Alice
청담동
앨리스
8/10
♥
♥
Get ready for a Park Shi Hoo fest! I'm only half kidding…

Cheongdamdong Alice was one this year's dramas that I was almost positive I'd be skipping, at least for the currently airing season. Sometimes it's easier to wait for feedback from the rest of the blogosophere. However, I was more than intrigued after the first couple episodes, thanks in full to the wonderful gif-maker kakashi. Please, see her blog and catch up on the insanity that is Park Shi Hoo acting ridiculous, over and over again in many endlessly entertaining loops. (It was seriously my husband's favorite thing to do after completing each episode.)
Once started, the first episodes beyond PSH's craziness were complete snoozers for me. Our main lead girl Han Se Kyung (played by the ever adorable Moon Geun Young) is a fashion designer wannabe struggling to make it in the professional world. She's got a poor, broke and complete sob-buddy boyfriend (Can You Hear My Heart's Nam Goong Min), and a crowd of social climber friends urging her to break it off with him and marry a rich man. Enter Park Shi Hoo's character Cha Seung Jo (or as he likes to be called now, Jean-Thierry). He's everything a Kdrama lead is supposed to be: rich, rude, rich, president of a fashion company, rich, well-dressed, rude, educated in Europe, and rich. The rest of the drama's intro is classic and cliché. She mistakes him for a poor secretary, a farce he encourages, and the two fall into step. It'll soon be love, no doubt.
It's a story we've seen again and again (and I'm about sick of fashion – seriously - I like looking at pretty clothes, but I'm mostly a jeans and T-shirt sort of gal). Somewhere around episode 6 though, I became invested. It hit me so instantly I don't even remember when it happened. While not everything after that moment was perfect, shockingly this has become one of my more favorite dramas of the season. And because there's obviously something to this, I think it's worth a look a few aspects that make Cheongdamdong Alice actually memorable and unique.
Fairytale as Metaphor
This drama certainly isn't the first to incorporate (or at least reference ad nauseum) a fairytale story (think Secret Garden's 'little mermaid' theme). What's interesting though is how matter-of-factly the drama takes its Alice character Han Se Kyung.

Se Kyung is the young but not naive girl who finds herself in a the 'wonderland' that is Cheongdamdong, a fashionable neighborhood populated by the wealthy and influential, all of whom are probably a little on the ridiculous side (though none so much as the arguably insane Seung Jo). Where the parallel stops though is that Se Kyung doesn't just haphazardly follow a white rabbit into the hole leading to Cheongdamdong, she actively seeks a white rabbit as someone who will lead her into this new world. Social expert Tommy Hong (Kim Ji Suk) becomes her first target – her goal: an initially nondescript rich husband, and a home and position in Cheongdamdong.
It's a Cinderella story punctured by one sinister fact: Se Kyung isn't an innocent damsel in distress waiting to be rescued by her prince charming. As the story progresses, Se Kyung loses more and more of her 'niceness' and practically wills herself to become black-hearted for the sake of achieving her goals. She might love Seung Jo, but had he not been a rich chaebol, the story hints that Se Kyung probably would've given him up. Her poverty isn't merely back story. For Se Kyung it is a lifestyle she will give up no matter the costs, and she will give up almost anything to become Seung Jo's wife, even if it means lying to him, and continuing to lie for the rest of her life.
Se Kyung's time in Wonderland, however, is forever measured by her continuing successes. One mistake, one fall, and she could find herself back in her poverty-stained reality.

To succeed, she must overcome all the difficulties in her path, particularly those set up by the people who are out to expose her secrets. In relation to the original Alice story, I came across this assessment:
"The animals of Wonderland are of particular interest, for Alice's relation to them shifts constantly because, as Lovell-Smith states, Alice's changes in size continually reposition her in the food chain, serving as a way to make her acutely aware of the 'eat or be eaten' attitude that permeates Wonderland."
This 'eat or be eaten' attitude is especially vital, though perhaps Se Kyung envisions it a little differently: if other people can act like mercenaries, doing whatever they want to achieve or maintain their status, then why can't she? If they can lie and be backhanded, why shouldn't she? If she refuses to stick up for herself, unlike heroines in other fairy tale Kdramas, Se Kyung recognizes the possibility of being beaten down, and no one will come to her rescue.

Her journey is marked with highs and lows; sometimes she has the best hand, and sometimes her enemies hold the trump card.




A New Kind of Character
At best, Se Kyung's blunt and mercenary behavior makes her a unique figure in Dramaland.

At worst, it positions her very close to what the despised second lead character is supposed to act like, and I'm not sure Kdrama watchers are really ready for this kind of development – especially with the ever looming possibility that Park Shi Hoo is going to cry and break the hearts of fangirls everywhere.

Moon Geun Young may receive criticism for her characters' lack of warmth and ever stony expression; I however believe she acted her part well, consistent to Se Kyung's emotional hesitancy of becoming the black-hearted gold-digger.
Honorable mention for the twist of character types is
So Yi Hyun's
role in Seo Yoon Joo. Initially typecast as the villainous second lead, and first love to Seung Jo, Yoon Joo is actually a forerunner to Se Kyung's schemes of upward mobility.
Having successfully entered Cheongdamdong, she pities her former school mate and reluctantly aids Se Kyung. They are far from BFFs, but their relationship is every bit as intriguing as the main romance line. As our story progresses, Yoon Joo becomes less and less villainous, and more pitiable. Viewers question her sincerity to help Se Kyung, and wonder at her advice, as every move Yoon Joo makes in her self-imposed Wonderland reveals how hollow her existence is, and how fleeting her happiness may be. Yet, she is a fully fleshed out character, not purely evil nor corrupt, and every bit as relatable near the drama's end.
Conclusions
I may have painted Cheongdamdong Alice in a rather somber light, but the drama is also hilarious.

Be sure to check out its many comic gems especially in Park Shi Hoo's zany character, his pricelessly throat-clearing father, every interaction between the main leads' fathers, Tommy Hong's ridiculous expressions (not to mention his 'wtf' wardrobe), and the great cast of side character friends, all as cute as they are helpful in motivating the OTP.

It's a cast that adds to the drama more than it detracts, and I can't often say that about most side characters or second leads. Therefore, thumbs up Alice, and I will miss the time we spent together.