School 2013
Episodes Seen: 8/16
I have to admit, I've been in a mini-drama slump for the past few weeks. Well, almost a month. Not that I haven't been watching anything, it's just that nothing has really grabbed me since
Innocent Man
aired its finale, and a giant hole was carved out of my drama-watching heart. Like the good Kdrama fanatic that I am, I kept trying on for size a smattering of new dramas, old dramas, Japanese dramas; I even toyed with the idea of starting one of the many, many Taiwanese dramas that have been languishing in my PTW list for ages. Yet nothing seemed to suit my taste.
Until I stumbled across School 2013.
It was one of those flukes. I'd missed the start of just about every other currently airing K-Drama (Missing You, King of Dramas), until there seemed no point in trying to catch up. Honestly, I was just waiting for Flower Boy Next Door to come out next year. But in the meantime, School was bouncing around harmlessly on my radar. Did I really want to watch another high school drama? Seemed very Biscuit Teacher-esque to me, and I barely got through that one, despite my love of its two leads. I figured School would be just another blip on the high school drama genre. Probably it was going to be funny and mostly light-hearted. The cast seemed like one giant picture of pretty people. It couldn't be that great, could it? Wow, was I ever wrong!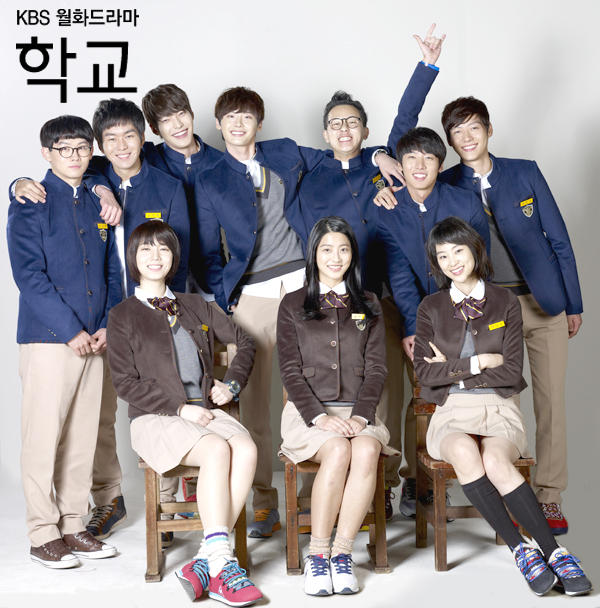 The synopsis so far (no spoilers)
:
The drama sets up at Seungri High School, one of the worst academically ranked schools in the district, especially in Class 2 where all of our drama's sophomore students are enrolled. It's not hard to see why. The class is plagued by bullies, apathetic students, and funny characters more interested in their own entertainment than in school work. Introduce our poor, belabored but ultimately optimist teacher Jung In Jae (Jang Na Ra), and it's plain to see that she's way beyond her depth at this school, or is she? Her problems range from dealing with the troublemakers, pressure for her superiors, and the interference of new teacher Kang Se Chan (Choi Daniel). Good thing she has the newly made class president on her side, male lead Go Nam Soo (Lee Jong Suk).
Why you should stop what you're doing and watch this immediately:
If you checked out at the words "high school drama," "bullies," or "[goody-two-shoes] class president," then think again. School took me by surprise for a reason! On the surface it may seem like typical drama fare. But underneath and hiding behind many a plot twist, these characters are realistic, fleshed out, and deeply moving to watch as they deal with school and other students alike. The introduction of transfer student Park Heung Soo (Kim Woo Bin) threw off every preconception I had.
Now I'm waiting with bated breath each week, stalking the sub completion percentages to see what will be happening next to my, by now, beloved bunch of students and their harassed, but endearing teachers. Never before has the pecking order of school bullies been as intriguing to witness. Never before have I wanted to walk up to each and every character in a drama, give them a big hug, and tell them it's going to be alright.
Originally published on MyDramaList: